这是我们20200315的报告《洪灝|中国式抗疫》的英文原版。感谢阅读。
----------------------------------------
"It was the spring ofhope, it was the winter of despair". – Charles Dickens, A Tale of Two Cities
And It is a time for epic market moves. After last week's historic volatility in the US market that was not supposed to occur during earth's lifetime, the S&P 500 closed RIGHT at its 850-day moving average (at 2,711 vs 2705. Figure 1). 
Figure 1: The historic plunge now vs. 1987: S&P 500 back RIGHT at 850-day mavg

Source: Bloomberg, BOCOM Int'l estimates
We have discussed repeatedly regarding the significance of this long-term moving average, as it rhythms with the length of a short economic cycle of 3.5 years x 12 months x 20.2 days = 850 days ("A Definitive Guide to Forecasting China Market", 2019.09.19). In the past, not even the "Black Monday" in 1987 could penetrate this moving average. If the index trades consistently below the 850-day moving average in the coming weeks, the odds of a global recession, which has already surged, will be impossible to ignore.
Many tried to explain Friday's epic reversal from the brink by the coordination of global central banks' emergency monetary easing moves. But we all understand that monetary and fiscal stimulus can do little to fight the coronavirus. In the near term, to contain the virus contagious spread, countries must lockdown their cities; they must provide emergency loans and other relieves for small business to ease their working capital constraints; aggressive and free virus testing must also be available to quickly locate the potential spots of contagion. Besides that, as time passes, we pray. 
These are the steps that China has taken to fight COVID-19. Countries are now taking the pages from China's playbook: Spain and Italy have locked down the entire country; a number of US cities declare emergency state. Trump's speech on Friday let the market see a definite path to combat the coronavirus. Despite continuing uncertainty and challenges ahead, the market swung from despair to hope. Based on China's experience, such hope alone will help stabilized the market, as China did after the historic plunge on the first trading day after the Lunar New Year. Next, the global markets will likely to continue to heal, despite rising new confirmed cases – till the new confirmed cases start to decline for some time, validating the inflection of the virus spread. Then the market will return to the reality of weakening fundamentals.
Our technical and sentiment indicators confirm such forecasts based on the Chinese experience from a different angle. Note that Hong Kong is extremely oversold, as indicated by the percentage of index members making new 52-week lows (Figure 2). The sentiment in Hong Kong is also extremely depressed, as observed on an intra-day basis on Friday, March 13 (Figure 3). Historically, when the market was oversold at such extreme levels, and sentiment was so extremely depressed, a technical rebound started to unfold in the ensuing weeks.
Figure 2: Market oversold at its extreme, second only to 2008 and 2011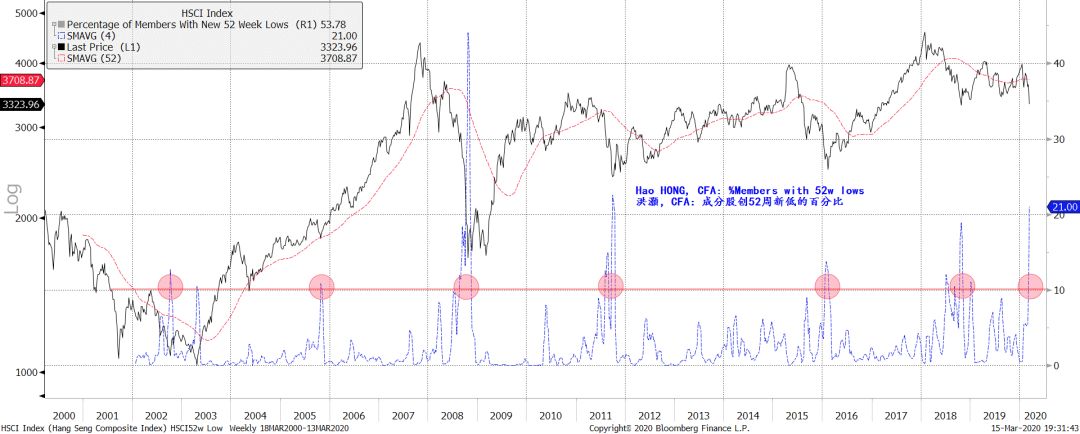 Source: Bloomberg, BOCOM Int'l estimates
Figure 3: Market panic at historical extremes (2020.03.13 intraday data)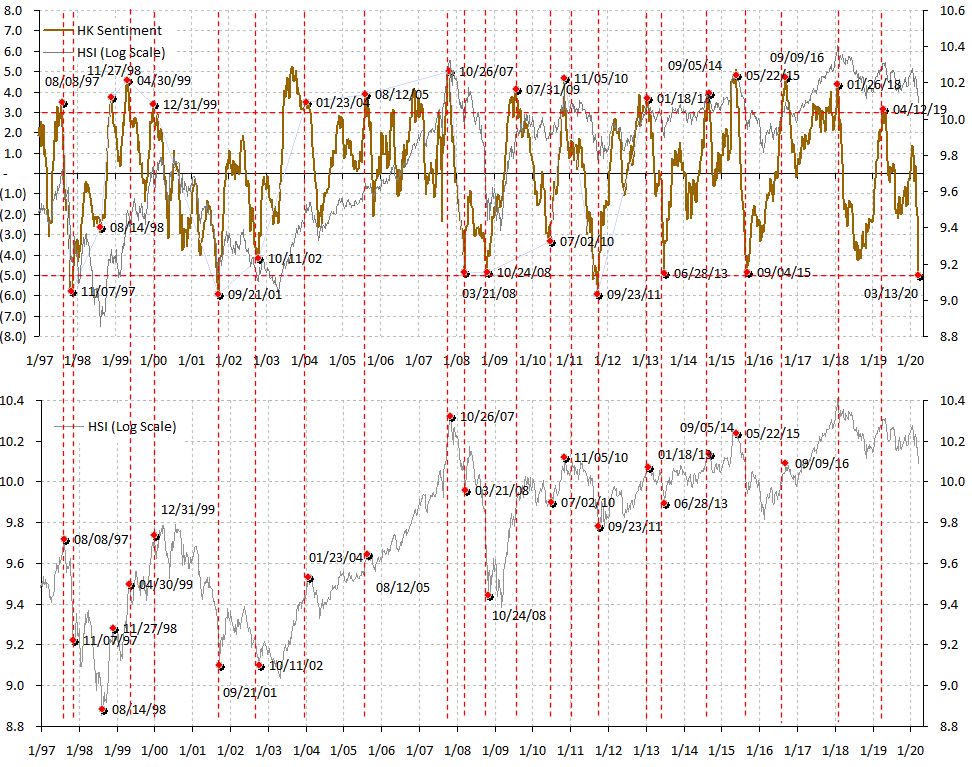 Source: Bloomberg, BOCOM Int'l estimates
But we continue to have reservations about China's role as a "risk haven" during the global storm. Our analysis shows that the northbound net fund outflow via the stock connect is at record levels. The northbound funds tend to be smart money, as evidenced by their escape in April 2015 – right before the bubble burst in June 2015, and again in February 2018 when one of the steepest market corrections in China's stock market history began (Figure 4). Further, the A50 index futures has run into resistance, and has been range bound since June 2015 (Figure 5).
Figure 4: Foreign fund record outflow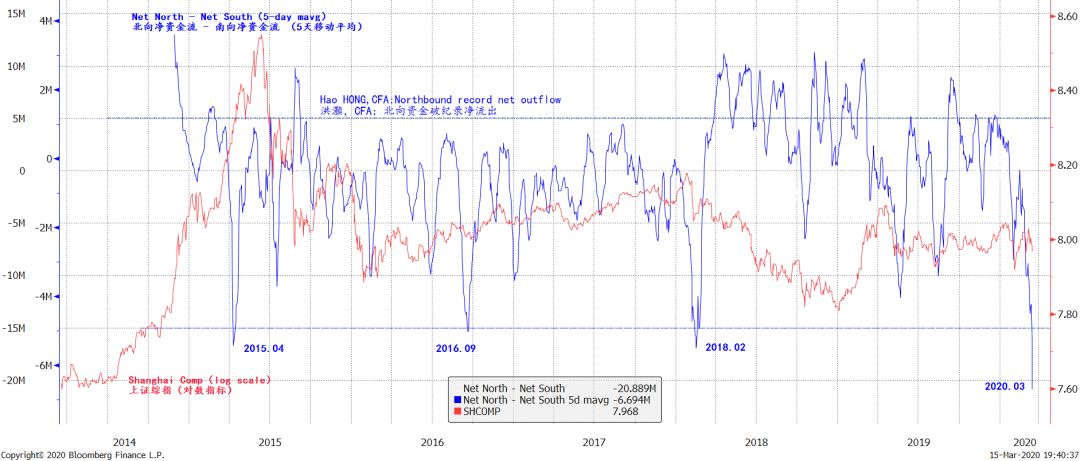 Source: Bloomberg, BOCOM Int'l estimates
Figure 5: A50 index futures is still bound within a trading range since 2015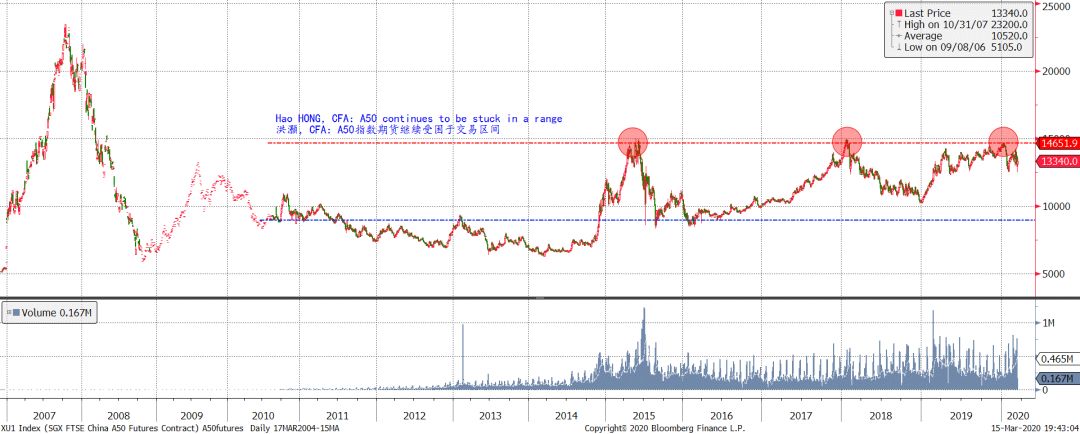 Source: Bloomberg, BOCOM Int'l estimates
In sum, governments around the world have come to terms with the harsh reality of COVID-19, and have follow China's suit to fight the virus spread. The more effective the quarantine efforts are, the more costly it will be economically. China has started to go back to work cautiously. But capacity utilization is only half of, or even less than half of the usual levels, as indicated by property sales, traffic, electricity generation and land supply data, etc (Figure 6-15). In the near term, governments' resolve, monetary easing in an extremely panic market will induce technical rebound. But precisely because the market can gain from draconian quarantine measures in the near term, the longer-term economic outlook is turning increasingly clouded.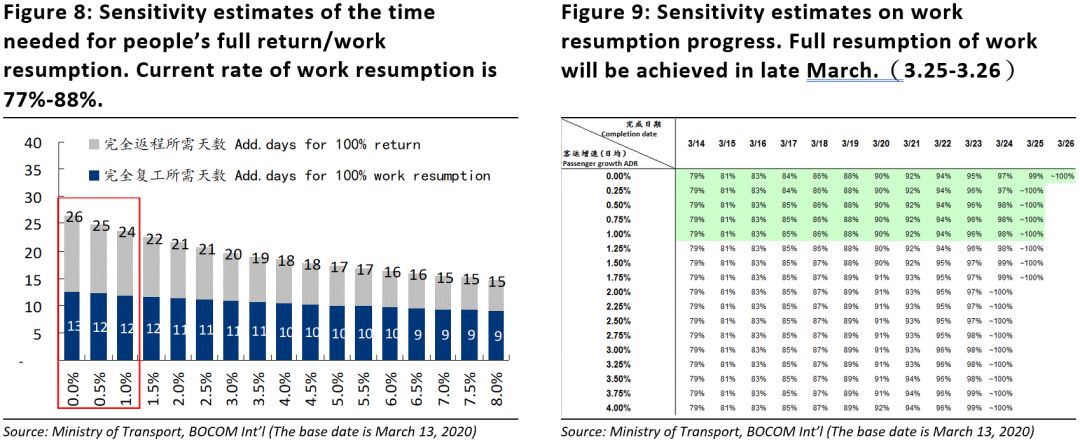 洪灝,CFA
交銀國際
2020.03.16